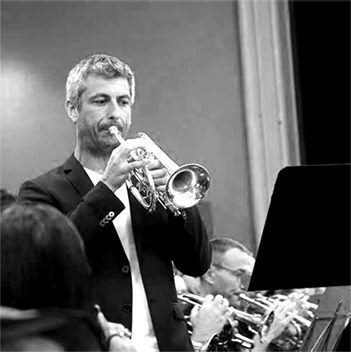 Alexis Demailly, a cornet and trumpet player, started playing at the age of 6 in the North of France. His impressive career and education rely on various studies, including at the Academies of Music in Lille and Saint Omer as well as the Conservatoire National Supérieur de Musique de Paris where he currently teaches.
Alexis performed as a principal trumpet in the Pasdeloup Orchestra (the oldest symphony orchestra in France) and as principal cornet in the Air Force Brass Band. In 2003, he became principal cornet at the Paris Opera.
Alexis contributed to the evolution of Brass Band in France ; he performed as principal cornet of the Paris Brass Band, from 2009 to 2019.
In addition to his activity as an orchestral musician, Alexis performs
as a soloist in France, as well as abroad.
He is also involved in various projects with well-known composers such as the likes of Joseph Vella, Peter Meechan, Peter Graham, Stan Nieuwenhuis or Fabien Cali. Alexis' numerous recordings are globally renowned.
He is an assistant teacher at the Conservatoire National Superieur de Musique de Paris.